I know this is a long blog, but there's a lot to share.
It was another early start with a 2:30am alarm to catch a 6am flight out of Redmond, OR to Houston, TX. As soon as I landed at IAH, my dear friend Amanda picked me up and we went straight to Hope Biosciences Research Foundation. This was for my first treatment with my own mesenchymal stem cells. If you read my last blog the cells were extracted in the summer, via the adipose tissue (fat) and I explained the process of manufacturing my stem cells for treatment.
Technically this treatment is called HBadMSCs, or an "autologous mesenchymal stem cell product".
The purpose of this treatment is for the cells to (hopefully) navigate to the damaged areas of my spinal cord/brain, and give more regeneration to those areas.
Stem cells are considered "drugs" by the FDA. I first learned about this treatment as Hope Biosciences is running a FDA phase II clinical trial for RRMS, but I didn't qualify for it (as I had just had HSCT in the last 12 months). However, I managed to access it though via the Right to Try (RTT) legislation, and also, at the generosity of Hope Biosciences LLC.
Since I'm doing this via the RTT, I have to pay the wholesale cost of manufacturing the drug. Under the law, the manufacturer cannot charge a profit on the drug. I opted to have half of the stem cells given intrathecally (spinal injection) as that is closer to where all the damage is in my brain/spinal cord, along with the IV infusion.
For first part, an infusion of 100 million stem cells (MSC's) was given to me via IV over an hour. It was painless, and no side effects at the time, nor later. See pic below of what the MSC's look like with some saline already added. They have a rather yellow creamy colour to them, unlike the hematopoietic stem cells I received for my HSCT in Mexico (orange/brownish colour).
The next morning (Dec 6th) I went to the River Oaks Hospital for my spinal injection. This turned out to be a much bigger procedure than I expected. Like, much bigger.
I was put in a hospital gown, an IV inserted, heart monitoring cords were attached and I was put on oxygen. There were approximately 5 people who worked the room where this specialized procedure takes places. Once in there, I was put face down on a stretcher with my legs strapped down so I couldn't move, with my whole back exposed. I felt highly vulnerable and I didn't like the feeling.
The interventional radiologist used x-ray technology to find the exact location in my L3 spine where the injection would go in. He used lidocaine to freeze it and it was not painless! A catheter was put in, then my other 100 million MSC's were injected into my spinal cavity. It is somewhat like a spinal tap except stuff was going in, not taken out. I had to lay 100% flat for an hour before leaving.
Within 1.5 hours post procedure I developed severe pelvic/lower back pain that was radiating down my legs. Once back at the hotel, the pain engulfed my body and I developed a high fever. It was a brutal day. I was such a mess I slept through my alarm the next morning for my flight. I couldn't even stand up without yelping in pain from head to toe, but I had to use the rest room and get on the phone to deal with rebooking my flight/extending hotel stay.
I spent that whole day lying down and caught the first flight the next morning back to Bend. While resting at home, I realized my legs/feet and abdomen were incredibly distended. I'd put on 10 lbs of water retention! Not sure why, except I knew this was an indication of inflammation.
As I write this blog (a week post procedure) I am back to baseline.
I really hope this treatment works. It cost a lot of money (which I don't have) and it was a tough aftermath. It could take up to 3-6 months to see improvement. Here are some images and a few short videos. The last one being from a month ago of my walking 🙂
A huge thank you to Sherry Diers for her kindness and support throughout this experience ❤️
First day IV Infusion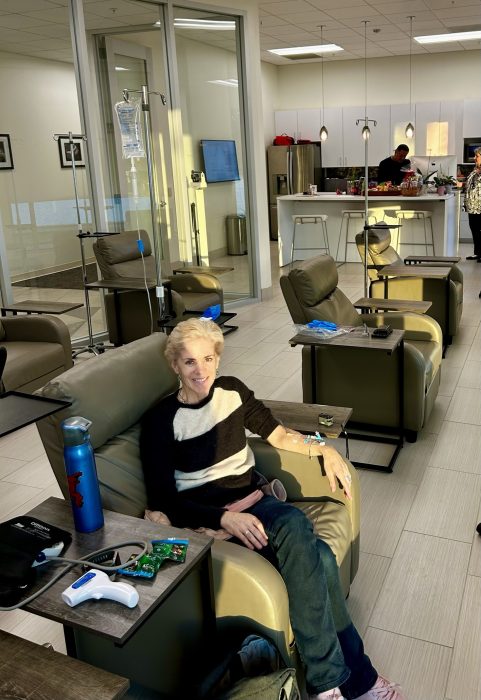 Mesenchymal Stem Cells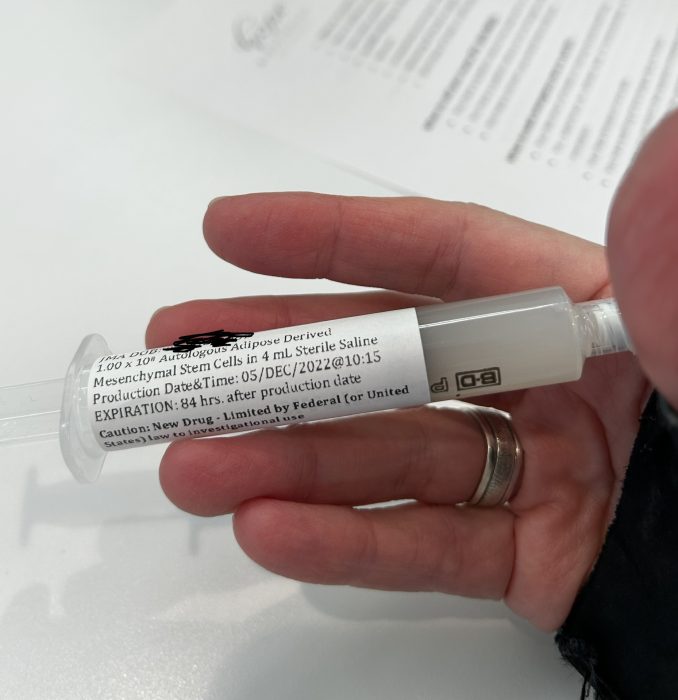 Imaging of Catheter at L3 Lumbar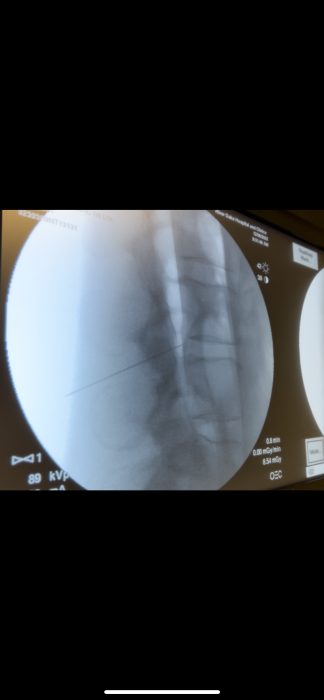 Post Thoughts Intrathecal Injection

Click here for Thoughts Post Intrathecal Injection
WARNING GRAPHIC CONTENT:
Click here for Actual Intrathecal Injection