Yesterday wasn't that eventful. My focus was to organize food/eat, and recover from the stress of the previous two days. The weather turned unusually cold and I needed to figure out how to get the heat on high.
The batteries for every remote for TV/cable in the apartment were dead when I arrived. I called Raul and he came to the rescue with new batteries, replaced a damaged HDMI cable, and made sure the heat was on full blast. Last night, while stretching I watched the first episode of 'And Just Like That', the follow up series to 'Sex and The City'. OK, wow that was a shocker!
___
I was up at 7am today to be ready for my 8am pickup for my PCR test. Usually someone would come to my apartment, but since we needed a quick turnaround the only place that does that is the hospital. It's apparently the best hospital in Monterrey. The cost was $160 CAD which is considered very expensive here. I went in my PJ's and winter jacket (forgot my hat) and was assured it was only 1/2 hour I only had my usual lemon water and a coffee.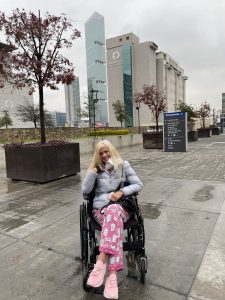 Outside Hospital San José Tec de Monterrey
Over an hour later I was back in the apartment and starving. So now I wait.
Five hours later, I learned I am COVID negative. Wahoo! I had half an hour to pack up and head out to the clinic for my first day of chemo. In the meantime, Fernando came in to meet me and he seems very sweet. More later…