Having a long sleep last night was helpful for the kind of day that was ahead of me.
My pick up for my neurology consult was at 10:45 AM, but I was way behind schedule as there was just too much to do on my own. Marcela (lovely admin staff) was at my door on time, but I was still in my 'birthday suit' at the other end of the apartment unable to get to the door.
In advance of the pick up. I tried to pack up all my food, meds, supplements, electrolytes, reading material, anything and everything I could anticipate for what was/might have been needed for an 8 hour day (consult and potentially first day of chemo). AND it was hair washing day (which for healthy people who don't know this, hair washing for people with MS takes saps all one's energy).
The neurology consult wasn't particularly informative. My MRI report and scans were not there for the doctor so all I could do was share my 20+ year history of MS with her. How does one summarize all that in a 40 minute time slot? One key point she said was that there was a 50% chance I will feel better after treatment versus a 100% certainty I would decline if I didn't have HSCT. Wow that would be out of this world to feel better! She couldn't speak to if I would, or would not have, any further relapses in the future. Hmm…
Since we didn't have Julie's two COVID tests back yet I was taken to my apartment to wait (I cannot have chemo if she's positive).
There is another lady here having HSCT and her name is Elvia (delightful lady!). She treated me to a salmon, quinoa and kale bowl from Uber Eats. It was absolutely delicious! I seriously ate like a 'pig at the trough' shovelling the food in so fast from hunger. Luckily no one was watching (or were they?).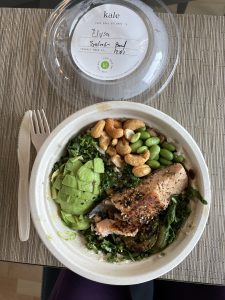 Salmon Bowl
The bad news came in that Julie is confirmed positive for COVID. She is still asymptomatic (luckily) and will quarantine in another city. Sadly, she's flying out in the morning. Am I the only one wondering why she is flying with COVID?!
Another caregiver is being flown in for me named Fernando. There's only one Fernando that I've known in my life and I adore him, so I'm praying that this Fernando will have good energy.
I have to be honest, I am not comfortable with a man living with/looking after me 24/7. A lot of what goes on behind closed doors with this disease is too private to share with someone you don't know. There is no one else though, so tough luck. He may be here Thursday night or Friday morning, BUT he won't be coming in my apartment until his arrival PCR test is negative.
As for me, I am on hold until Friday morning when I have to have another PCR test. The results will come back within two hours and assuming it's negative again, I will start my chemo Friday afternoon. Being two days behind schedule, I'm not sure yet if I need to adjust all the other components of my trip home. There is a LOT of stuff planned that a tiny setback of any kind can cause a serious ripple effect of disruption. I'll figure that out tomorrow.
It's 27°C today and then it's dropping way down in temperature tomorrow. I was desperate to get outside into the sun and was assured that access to the rooftop patio was open for me. When I get there both doors were locked to the outside. The only thing that was available was through two very heavy glass doors, with a one foot drop concrete step down onto a patio that is completely covered from the sun. There is no ramp to even get out there even if I wanted to. No matter how much I pleaded the building manager, she wouldn't open the other locked doors that WOULD open access to the sunny areas on the roof. Not sure why it's locked off…maybe they think I'll try and jump off? JK 😉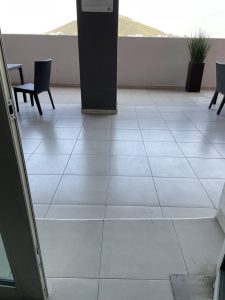 Non Accessible Rooftop Patio
With no other options, I came down to the parking lot of the apartment building, parked my scooter, and am sitting here dictating and writing. I probably look pretty weird sitting on my scooter (in a bikini top) tucked between two cars, but at this point who cares.
I have been through all emotions today. Mostly upset and exasperated at having to communicate and explain/coordinate stuff that I need done. I expected to come and have everyone know what to do, and just do it. I'd already spent all my mental energy just getting this whole thing together, and then physically getting here. The only way I can equate the amount of mental energy it's taken is by saying it's about the same as one of my full time years studying at university. Does that paint a good enough picture as to where I'm at?
I did ask for some wine or tequila given the circumstances….and ahhh yes Raul was my saviour and brought some delicious Mexican red.
I'm grateful.