I woke up at 6am (for some dang silly reason) although I had the pleasure of seeing the sun rise over the peaks in Monterrey. Wow it's stunning. I am super grateful to have an apartment that has the sun beaming in from almost every window.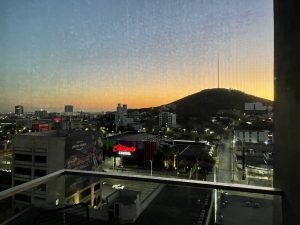 Sunrise in Monterrey
I read half the Agenda binder with my coffee and signed/completed the necessary paperwork. It was great to have a pretty good idea of what's to come each day. I noticed that the Consent Form it included a clause, that stated a risk of death at 1-3%. I wasn't freaked as I already knew this, but for other people considering this treatment it's important to know all factors. The treatment plan here is exceptional and I'm not worried at all about the level of care.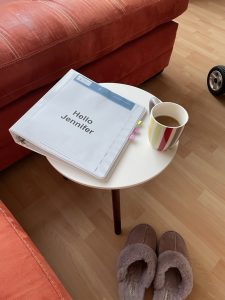 Agenda Binder
Today has me on a crazy schedule (pick up at 10am). Since we we won't be back till supper we need to pack a lot of snacks (again). I need real food more than snacks so hopefully we can get me on real food soon.
I have downloaded Otter (voice recorder to text app) so hopefully the neurologist won't mind my recording the meeting so I can recall all the details. I always forget stuff and this is serious stuff to NOT forget.
*****MAJOR ALERT*****
At 10:05 am I found out that my caregiver Julie tested positive for COVID. We had both been tested the day before and I was negative. So she shut herself in her room ASAP, and I left the apartment for my full day of consultations and testing at the Clinic. She is asymptomatic and was instructed to pack up to leave the apartment right after. The place was thoroughly cleaned and sanitized.
This could be a false positive (hopefully!) but to figure it out she will have both an antigen and PCR test tomorrow. The results will be back before I'm due to start my chemo at 1pm. This is imperative as if she's in fact positive I cannot start my chemo and must wait until Friday (5 days post 1st test) for a second PCR test. I'll then have to wait till Monday for the results. There is more to this domino effect, so to speak, but I'll leave it out for now unless I need to follow that new plan.
We are hoping she is negative tomorrow and things will continue as planned. Moving forward with the day…
There was an introduction to the treatment plan, as well as introductions to all the physicians and administrators that work together on the program. There were so many doctors and consults my head was spinning from it all. Good news is I cleared the EKG, the lung function test, all bloodwork is normal, and we reviewed all my meds/supplements. Some I need to remove such as vitamin C, pregnenolone and DHEA.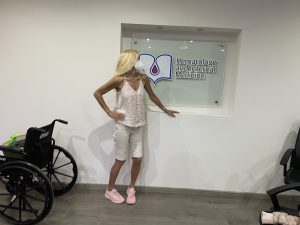 Me in Conference Room Deliberately Turning My Back on my Wheelchair 😉
One caveat to today's intense schedule was that my neurologist consultation was pushed to tomorrow morning. I'm choked about this as now my free morning (tomorrow) is taken up for the neuro consult.
As it is, I am left alone without a caregiver to help me with dinner, breakfast, and pack for tomorrow's day (drugs, food, clothing, etc., etc.). Hmm….since I'll be alone tonight maybe it's party time?! If so, can someone please bring some tequila?! OK I'm kidding, I'm actually pretty upset about it all. I don't like stress and upheaval in the middle of the most important treatment of my life. What can I do though, but roll with it.
PS – My shower head faucet was replaced yesterday, so hopefully I don't break it again. Not sure why it is designed to only aim the water flow straight forward and up high. It's made for standing folks. I have to sit when I shower, so looking up at the water flowing past me is a bit annoying and a challenge. Surely there's an adjustment somewhere, right? The handheld is good, but I need both hands free to shower.