Sunny again, yessssss! The weather forecast is back to the usual Monterrey February average temps.
I waited till 9am when it was JUST warm enough (with no wind) to sit outside on my wee balcony off my bedroom to have my coffee in the sun. It was glorious.
I had the worst sleep last night and was awake constantly from some crazy night sweats. After soaking my first two sets of pyjamas, I grabbed a short sleeve soccer jersey hoping that would be a better choice…nope, it wasn't. Perhaps it had some kind of recall of previous sweaty workouts, haha?!
It boggled my mind why I had these sweats. My normal hormone levels are normal and all the chemotherapy is out of my body now. Sometimes there's no answers and we just have to move on to what's next in the day…
8am meds:
Dexamethasone .5mg
Pantoprazole 40mg
Ondansetron 8mg
Ciproflaxin 500mg (anti-biotic)
Acyclovir 400mg (anti-viral)
Itraconazole 100mg (anti-fungal)
There were some new medications added today. Basically what's happening is my white blood cell count is continuing to go down as a result from the chemo. This is normal and that's what we want. The flipside is that my body becomes vulnerable to opportunistic infections so we treat that with prophylactic medications (aka the 'anti's' listed above) and watch for any other symptom that might be abnormal.
When Dr. Alex comes to give me my shot he takes my vitals, reviews all symptoms I may have, and documents it in a binder. We are on top of everything.
Today was exciting as I had a field trip! Kind of like the ones in primary school when you know you're going somewhere, but don't know much more than that. Except for this one I didn't need my mom's signature to get on the bus ;-).
We went to this massive park in the city called Parque Fundidora which at one time was an old steel mill/foundry. They have restored some of the original structures, and turned it into the most beautiful, serene expanse of green space. It's 360 acres, has an amusement park, theatre, fountains, lakes, and the list goes on. There were no cars whatsoever, almost no people and from time to time we saw road cyclists training. The five of us (Raul our driver, myself/Fernie, Elvia/Ana) strolled around for 1.5 hours.
It was great to get out to see something new, lovely and find complete solitude in this metropolis. Plus it was a relief to not think about my health or when my next shot wass coming. Oh yeah, about that. The spot today was my back fat. It was definitely more easily to tolerate.
I did a few steps on my own using the wheelchair as a walker when we were out, to test out how I'm doing. My legs and feet were on fire after from it, but I'd say given the circumstances my body is doing awesome. Just to stand a little was huge.
8pm medication: Ondansetron 8mg
Walking the wheelchair 😉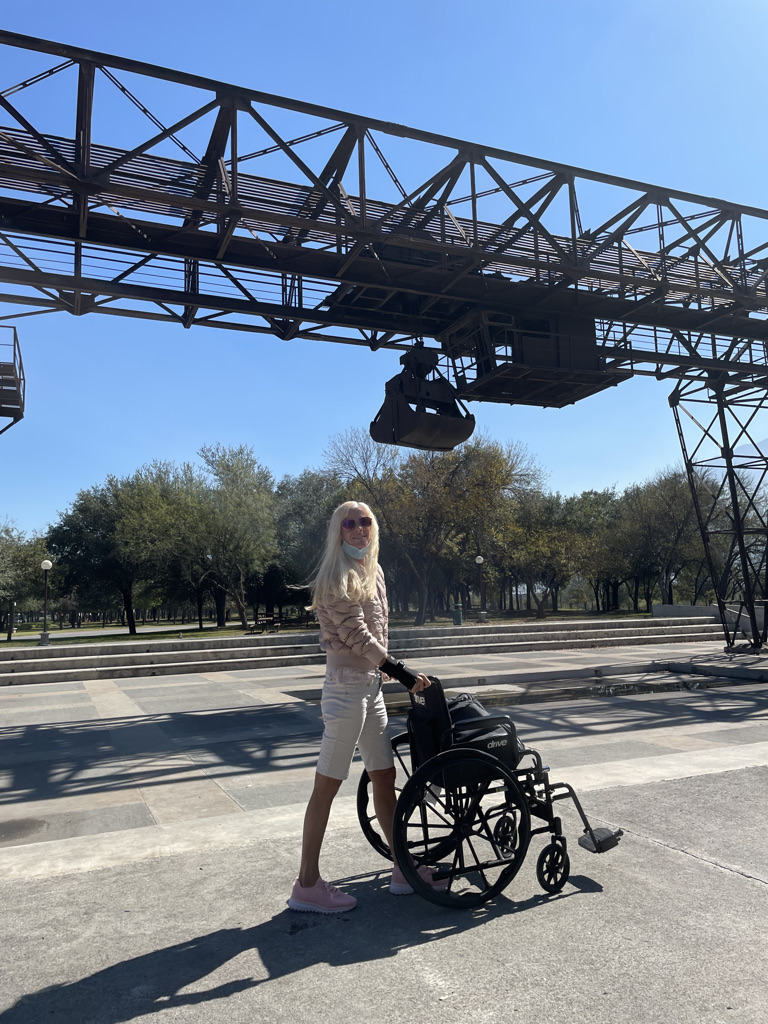 Standing for a moment unassisted (wheelchair was one foot away)