Wow what a day! It began at 1:30am waking up to one of my favourite Brad Paisley's tunes 'Ticks'. I thought I was dreaming he was singing right beside me but, dang (!!) no it was only my phone alarm. 

To start my adventurous day off I was running on only 4.5 hours sleep. I had three flights today with the first one departing at 6am out of Bend, Oregon. My body takes forever to get going in the morning, but I just had to kick my butt and get on with it.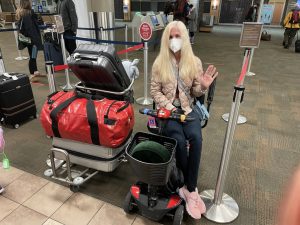 Redmond Airpot, OR
Once I landed in Salt Lake City, I had 25 minutes between flights and about 2km of buses, tarmac, and terminals to travel between. OMG I was stressed! The very kind Delta agent was literally jogging beside my scooter escorting me through the myriad of hallways and people to get me to the next gate. I was dying to use my extremely annoyingly loud scooter horn, but from previous experience, I knew people would ignore me 😉
I always book the seat at the front of the plane so I only have 5-10 steps before I can sit down, but unfortunately this type of aircraft was one I had never been on before. As it was, there were multiple rows to 'walk' to get to my seat. I was the last person to board so all eyes were on me as I staggered (with the help of two flight attendants) to my awesome window seat at the front. I wonder if I'll ever get used to being stared at…
When the flight attendant asked what I'd like to drink, the only thing that came out of mouth was 'anything alcoholic!' With some vodka beside me, I snuggled down for a sweet nap knowing this second flight was over four hours long.

Mexico City Airport was super confusing for me. Once I arrived, I found out I had to clear customs there and then re-enter through security all over again in order to catch my next connection to Monterrey. (I wrongly assumed that I would clear customs at my final destination). Luckily, I was prepared with all printed copies of digital documents, due to previous travel setback experiences, etc.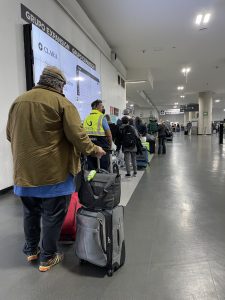 Security Line Mexico City Airport

It was a puzzle, to say the least, trying to discern which terminal and gate from which my next flight was departing. You'd think that the big board listing all departures would state that info, but all I could figure out was the general vicinity of where I needed to be. About 45 minutes prior to take-off of my third and final leg, the sweet Aeromexico agent finally had the gate info for us written on a piece of paper where we were to go. Yes you read that right, a piece of paper!

Arriving in Monterrey was a piece of cake. There was a porter the moment I came off the plane who had found my luggage already and loaded it within seconds. The Clinic staff member was waiting for me right outside and off we went. I feel like the lodging was approximately 30 minutes from the airport. 

The apartment is awesome and super spacious. I met Julie who will be living with me, and be my caregiver for the next four weeks. She is absolutely lovely. There wasn't any food in the apartment though so I was grateful for all the careful planning of snacks Johnny and I had prepped the day before.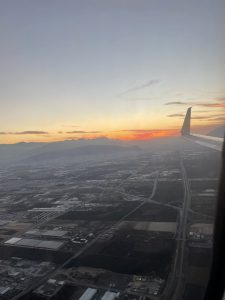 Descent into Monterrey
I finally tucked into bed around 10pm local time, leaving the big fat binder of my Agenda for the next 28 days closed. That's for light reading tomorrow.
A few apartment pics…